When God began to create heaven and earth — the earth being formless and void, with darkness over the surface of the deep and a wind from God sweeping over the water — God said, "Let there be light"; and there was light.

— Genesis 1:1-3
There is an argument among traditional commentators and theologians: Did God create the world 'Yesh Me'Ayin', 'Something out of Nothing? Or did God create the world 'Yesh Me'Yesh', 'Something out of Something?' Did God create every aspect of our world by speaking it into being? Or was God the great organizer of a pre-existing chaos? Ultimately, the matter is settled with a compromise. Whereas creation is a continuing partnership between God and human beings, what differentiates us from the Divine Creator is that we can only create 'Yesh Me'Yesh,'; only God creates 'Yesh Me'Ayin.' Human beings can strike a match, light a candle, or turn on the lights, but we should not confuse these inventions with creation. Only God can say: "Let there be light." Our job is to transfer the flame into our world.
This past summer, when we cancelled our in-person programming for the first time in our history, our camp world felt 'formless and void', and 'darkness was over the surface' of our lives. But we did what camp people do — we were positive, we were flexible, and we implemented the greatest 'Rain Plan' in the history of Jewish Camping — and yes — we were able to create 'Something out of Nothing'.
Yet looking back on the past year – its struggles and its triumphs – we are left with a humbling realization: we didn't create 'Something out of Nothing', we created 'Something out of Something!'
And That 'Something' is you!
It is because of:
the parents who donated over $450,000 of tuition payments back to camp in our hour of need.
our donors, lay leaders, and stakeholders, who despite a year of hardship, chose to INCREASE their support of our camp community and its mission.
our alumni who answered the call on Giving Tuesday, helping us to raise over $190,000 in one day!
our amazing year-round team that we were able to pivot our platform, to offer hundreds of hours of virtual programming, while keeping our organization financially afloat.
our talented and dedicated summer staff, many of whom volunteered their time to create meaningful, social, and educational camp programs online this summer!
And it is because of the indomitable spirit of our chanichim, our campers, especially Gesher 2020, who were certainly able to 'Make Something out of Nothing' as they put on a Gesher Play, watched by thousands.
In this year's Annual Report, we celebrate a year like no other. A year that showed us what we have known all along: That Camp Ramah is more than just a summer camp - it is a powerful, multi-generational, international Jewish community that is committed to our holy mission of 'Creating life-long Jewish connections, one Ramahnik at a time!'
Todah Rabbah — thank you for your unwavering support.
Rabbi Joel Seltzer
Executive Director
Debbie Albert
President, Board of Directors
For the best experience, please view the 2020 Annual Report on a tablet or desktop computer.
A Community Coming Together
In a Year of Being Apart
Ramah BaWeb
As we entered into the 100 day countdown to kayitz (summer) 2020, the world entered into a lockdown. The excitement of that much-awaited day in June turned to anxiety – would we get to have Kabbalat Shabbat together at the Beit Knesset this summer, or sing as one machaneh (camp) at the Day Camp's Etz T'fillah?
While we didn't yet have those answer, we had a devoted k'hillah (community) who inspired a new plan: Ramah BaWeb! The core of the Ramah experience, delivered to your home. Four nights a week our zoom screens filled with campers, staff, alumni, parents, and grandparents, eager to see familiar faces, to feel the ruach (spirit) that is synonymous with 'Ramah'. Over eight weeks of Ramah BaWeb we did Omanut (art) and Mitbachon (cooking) together, had Z'man Ivrit (hebrew time) with the Day Camp, and themed days for our Tikvah participants.
Monday's Musical Ma'ariv started the week with meaning. Tuesday's Rikkud (Israeli dancing) got us off the couch, moving and laughing. Thursday Trivia Nights quickly became a fan favorite (and a fierce competition)! Fridays uplifted us, as 75-100 Ramah families came together for Kabbalat Shabbat, a needed reminder that even in moments where we feel some bidud (isolation), we can also have k'hillah (community) at the same time.
110

Live events

~7k

Participants

21k

Video Views
"Thank you for keeping our spirits
high during this time..."
$2.6 Million Deficit
On May 20th, 2020, we cancelled our camp season. A decision born from the core value of keeping our camp community healthy and safe, this was also a decision that deeply impacted the financial health of our organization.
Why? Expenses in the months leading up to summer, our year-round professional staff, maintenance, and upkeep of camp, are costs that rely on camper tuition, tuition that we were committing to refund entirely to our camper families.
Due to the incredible generosity of our parents, our donor community, and the support of various foundations and grants, including JCamp180, the National Ramah Commission, and the Jewish Federation of Greater Philadelphia, we were able to weather the challenge of a cancelled summer, and significantly reduce this deficit before we closed our fiscal year.
All Together Now Grant
Facing the realities of what a cancelled season woud mean, Jewish summer camps across the country found a generous partner in JCamp180 and the Harold Grinspoon Foundation. In a groundbreaking match, they would match every tuition dollar donated BACK to camp 1:1, and all other donations 2:1.
We communicated this to our community
and the response - overwhelming.
Summer 20.20
We have a teaching during staff week: "Camp happens" (a twist on another well-known phrase). Ideas might fail, plans WILL change, the perfect vision is rarely going to be the final result. So we adapt. We train madrichim (counselors) to use every resource available, to think creatively, to improvise, to kept the room entertained while the gears turn and a new plan forms.
That was Summer 2020. Camp happened. And camp happened because 85 tzevet (staff) members volunteered their time, expertise, leadership, and years of on-the-ground training to invent new ways of engaging campers and families with one another, to Judaism, and to the lifelong connection of Ramah.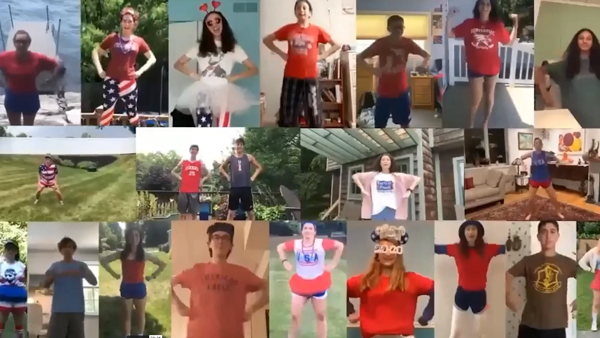 507

Registered Campers

366

Virtual Programs

85

Staff members
"Camp has been a big gift for our family. This time has been challenging for us and especially for our youngest since she usually doesn't want to connect to the Google Meet classes at her regular school. I spent a lot of time negotiating with teachers or running after her to make sure she attends the lessons. Seeing her connect by herself to the Ramah program, enjoying her Edah meetings made us very happy."
Adrianna, camper parent
"I don't know how else to say it. I say it with all of my heart. Please know that. I am so grateful to you. To camp. What a blessing these couple of hours are. For both of my boys. For me. I am beyond appreciative. There are seriously no words. Just thank you."
Rachel, camper parent
Family Payment Donations
Shortly after our cancellation announcement, parents received a form which allowed them to decide what to do with their 2020 family tuition payments. Families were given the opportunity to donate, rollover, or receive a refund.
Simultaneously, we shared that every family payment donated to camp would be matched dollar for dollar by the Harold Grinspoon Foundation through the All Together Now Grant, resulting in a contribution of $147,500.
Camp Ramah in the Poconos "...B'masoret Avot.."
The whole camp dressed in red, white, and blue on the closest Wednesday to July 4th ... the energy as we followed along the Maccabiah (Color War) Captain's Race, cheering on our teams ... Ramahniks coming together on the last Thursday night of camp, each in their own Gesher t-shirt, laughing, then crying as our oldest edah sways arm in arm to the last song of their Gesher Play. Instead of in the Chadar Ochel, the lake, or the Beit Am Gadol, these traditions were reinvented aganist a backdrop of living rooms, backyards and goofy virtual backgrounds.
Halutzim campers showed up for their 'rafting trip' with towels and goggles. Shoafimers 'toured' Washington D.C. and talked about repairing the world. Our oldest campers had hadrachah (staff training) to learn about leadership, and were given the opportunity to share words of torah with the community on their last shabbat as chanichim. We played 'Capture the Flag' using Google Docs. In the most genius ways, our brillant staff took classic camp experiences and created something that succeeded on a digital platform, something that made campers smile, cry, and reinforced a deep love for the Ramah experience.
Ramah Day Camp "Boker Tov Machaneh Ramah Yomi!"
At Ramah Day Camp, the day starts with an exchange of "Boker tov's." We sing, or dance (or both!); we do yoga or vocal warm-ups; we recite the Pledge of Allegiance, sing Hatikvah, recognize birthdays, and review the daily schedule. We begin EVERY morning as one camp.
In our pivot to a virtual space we asked: How might we provide this touch point? How can we start our virtual camp day together and continue to build this community? So we created "Boker Tov"! For 15 minutes, we wished each other "Boker Tov", sang, danced, did yoga and exercise challenges. We recited the Pledge, sang Hatikvah, recognized birthdays, and reviewed our virtual schedule. Every morning, 5 days a week, 75-100 chanichim and tzevet came together to begin the day with Ramah – as one machaneh, one k'hillah. And every day, we sent them off to their breakout rooms with the wish of a Yom Niflah – a wonderful day.
Yedidim
A Resource of Light
In concert our well-established commitment to our Tikvah families, we were inspired by the opportunity that being home each day left, the interest and need for our division of campers with special needs to connect virtually at a higher frequency. During a time when the majority of our chanichim were missing a consistant school schedules, we continued a system from the early weeks of Ramah BaWeb to provide programming twice a day, Monday through Friday. Madrichim organized and facilitated daily t'fillot in addition to a rotation of creative programs, fit for the zoom platform. By the end of August we had brough over 150 hours of joy and engagment to our campers, providing a much-needed resource and support to both the participants and their families during this unprecedented time.
Tochnit Avodah
The Beginning of a Journey
While it was not the inaugural year we envisioned, kayitz 2020 saw the start of our new Vocational Education program for former Tikvah campers, Tochnit Avodah. Our online version came to life; participants learned a variety of work skills crucial to working in a virtual setting. They practiced chat etiquette, appropriate email, and dress code, to name a few. Specifically, Tochnit Avodah participants worked on two projects — one project was sending out birthday messages to our overnight campers. David Silverman worked on the second project. Turning to his passion for music, David created a video of our community singing Hozrim Habaytah, our camp anthem. Using his musical ear, and learned technological skills, David collected videos from across the Ramah community, and pieced them together.
Joyful Judaism
Debbie Albert, our Board President, has reflected that "Not only did we lose a year of Judaism, but Judaism lost a year of us." A year of singing, learning, teaching, and spiritual growth. A year of the joyful Judaism that runs through the Ramah experience.
In addition to our community-wide shabbat experiences, like any summer, our staff infused Jewish education into their weekly programming. While learning to make ice cream, camper's were taught which blessing to say before digging in. Hebrew songs were featured as background music, and madrichim based games around biblical tales.
Talmud classes with Rabbi Joel gave our older community a chance connect and learn together for the first time all year. And on Wednesday mornings, camp-wide Musical T'fillot was inspirational. Kids, staff members (past and present) and alumni set aside 40 minutes of their week - voluntarily - to sing-a-long in prayer with Rabbi Joel and his guitar:
A family on their way to the beach, made sure to zoom-in from the car, campers in the backseat dancing to 'Ahava Rabbah.'
A veteran Mishlachat member joined for 'Yom Yisrael', guitar in hand, strumming along from her balcony in Jerusalem.
A camper sat next to their younger sister, teaching them the hand motions to 'Oseh Shalom' and their love for this special community.
Through our social media channels we highlighted our brillant educators, posting a Friday afternoon 'Dvar from a Far' each week. It would not have been a summer with Ramah without hearing the stories of Balak, Pinchas and Moses - familiar Summer Parshas.
Losing these pieces was non-negotiable. Our virtual schedule retained at it's core, the value of experiential Jewish education, teaching not only hundreds of campers, but filling whole homes with Ramah's rich Jewish tradition.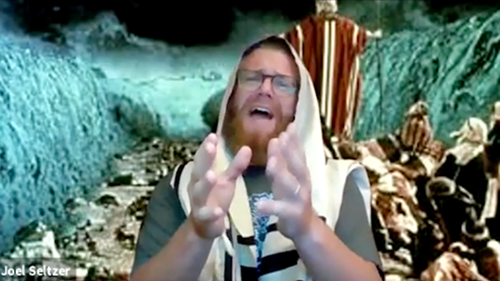 On August 1st, 2020 we launched the L'Chaim Campaign. As in past years, our annual campaign raises money crucial for programmatic initiatives, capital improvements and scholarships.
This year, more than ever, we asked our donors to consider making their most substantial gifts to date to help us weather the storm. We asked them to think about the future of Ramah, to look towards kayitz 2021 - with it's increased operational cost for a covid safe camp - and the anticipated need for more scholarship funds.
How did our donor community respond?
With an outpouring of love & support.

Yom Giving Tuesday, our biggest fundraising day of the year, was designed to be more than just a day to write a check. It became a day to celebrate Ramah, to end the year connecting once more with old camp friends and the larger Ramah k'hillah. Five virtual events were offered, infused with this new kind of magic we created as a community since the first Musical Ma'ariv on March 16th.
L'Chaim to... the best summer of our lives. - Andrew & Vivian Barnett, Co-chairs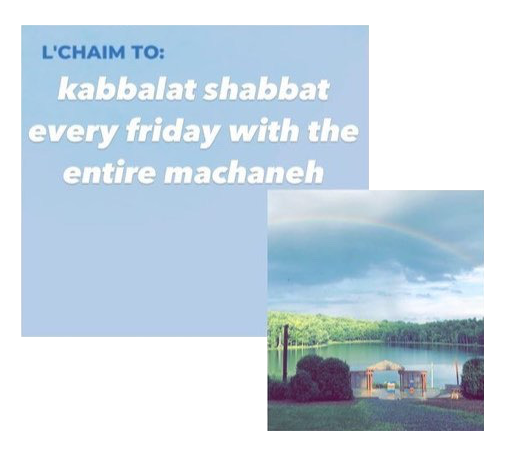 - Shoshana, Gesher 2016
L'Chaim to... Kab shab, Tisch, Zemirot, Everything. - Judah, Current Camper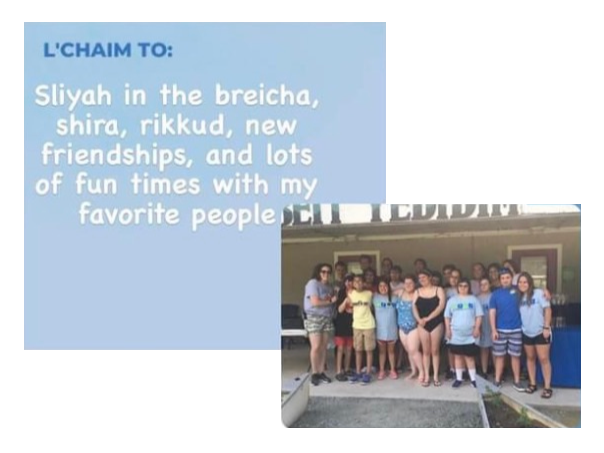 - Carly, Yedidim Participant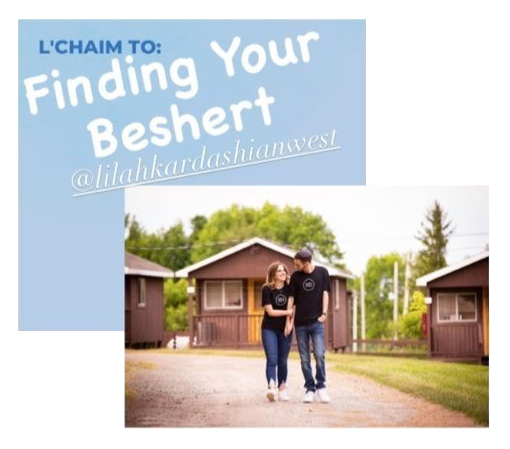 - Danny & Lilah Reisner
L'Chaim to... The incredible friendships and mentors. - Diana, Gesher 2016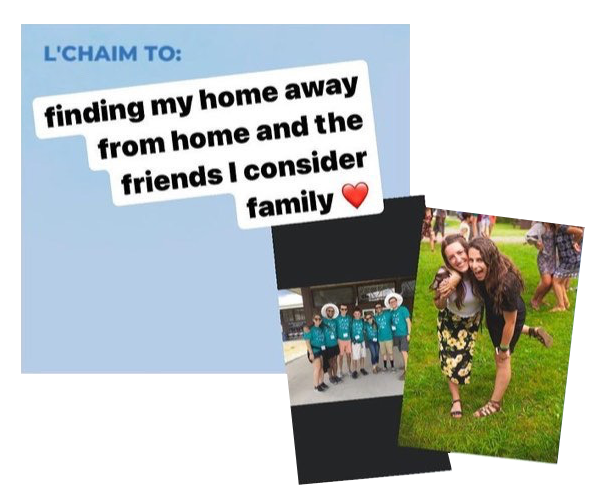 - Rachel, Gesher 2011
L'Chaim to... The stories we learned, the stories we wrote, and the stories we told for hashkavah. - Leah, Gesher 2011
In one day we raised $193,535.22
In total, the L'Chaim Campaign 2020 raised $1.6 million! Our most successful Chai Campaign to date.
Todah Rabbah!

We thank you for being a part of our camp community! Because of your support during this trying year, not only are we poised to deliver the most meaningful summer ever at Ramah Poconos and Day Camp, but we are also positioned to expand our mission and our impact in the years to come!
יפלס לנו דרך בסבך החיים...


...and it shall blaze a path through the thickets of life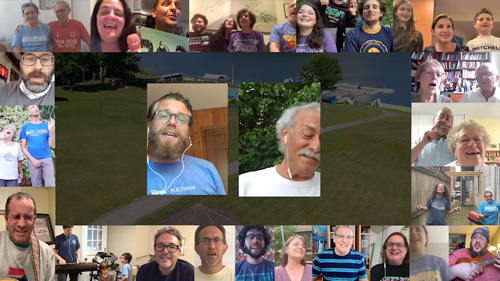 Thank you to all of our donors for your generous commitment to Camp Ramah in the Poconos. From our first time donors to our ongoing supporters, your gift has made a huge impact! Todah Rabbah for allowing Camp Ramah in the Poconos to continue it's important mission of creating lifelong Jewish connections one happy camper at a time.